Bristol-based women's health and fitness personal trainer.
Helping you back to fitness after pregnancy and childbirth
My clients come to me for a variety of reasons. Some are pregnant and want to be confident they're doing all the right things to support their developing baby. Others want to begin their journey back to postnatal fitness and fabulousness. Some are struggling with weight loss due to hormonal changes, and others have a specific issue such as diastasis recti or a weak pelvic floor.
But they all have one thing in common: they want to be sure they're doing the right exercises for their body, pushing hard to reach their goals without jeopardising their future fitness.
I've always loved and competed in sports. I was a competitive rower and marathon runner. But it wasn't until I did my training with revolutionary women's wellness expert Jenny Burrell that I found my true calling.
Working in women's health is my passion. I am dedicated to helping them look after themselves and am never prouder than when I get a 'thank you' from someone I have really helped regain pelvic and core health. For me it is not all about fitness, there is so much more than that, it is about educating women to feel healthy and strong through what they eat, drink and do!
It's so important to me that I get the right information out to women to make them feel better about themselves. And I'm privileged to have a wide network of contacts who I can refer my clients onto for specialist help: nutritionist Rosie Letts, women's health physios Helen Hodder (07753 620179), Jess Butterly and Amanda Sullivan, and musco-skeletal specialist Sarah Bryan.
Let me help you fall back in love with your body
As for me, I'm a qualified personal trainer, licensed Holistic Core Restore® coach and Buggy Fit trainer. I offer a wide range of fitness sessions for individuals and groups, helping to make sure you introduce the right exercises at the right time for your body.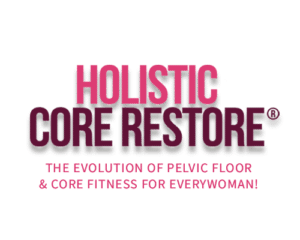 I take a holistic approach. This means I focus not only on exercise, but on nourishment, hydration, and the importance of diaphragmatic breathing with pelvic floor health. I'll teach you the importance of rest too. All of these things work towards promoting healing. Ultimately I'll take your individual goals, whatever they may be, and work out a plan to help you achieve them.
It may take some time: I'm not into quick fixes that might cause damage to your body. For me, it's about doing things the right way, mending and building strength from within.