Goodbye to 2018 & Hello to 2019

2018 all wrapped up!
2018 really was a year I felt I made a difference to Bristol ladies who came to me for my Holistic Core Restore(R) Everywoman courses or my 1:1 personal training.  For me my work is about creating body awareness and educating women to understand why what we eat, how we breathe, our self care and gentle exercising from within-out is essential BEFORE getting fit or trying to lose weight.
This has been the year about 'Me too' and women in society and one of the most important trends that is finally coming through a lot more is 'BODY ACCEPTANCE' – no matter what size we are – it is all we have and it is the thing that carries us through life!
One thing I did in 2018 was something totally out of my comfort zone!  One damp, cold Saturday in October I was invited, along with 10 other women from the health & fitness industry in Bristol to promote body awareness & image. We all undressed & put on fabulous Mermaid in England https://www.mermaidinengland.com/ bikini's for a photo shoot.
Most of us had never met and we were all shapes & sizes but we all said how people/our clients look at us and have expectations about what we eat and that we exercise all the time because we are either nutritionist, personal trainers or instructors!
We had a photo shoot in our bikinis and then we said sod it and we walked proud outside, in bikinis around Clifton Triangle!! The only time I was warm that day was then (heart was pounding!)!!! As I said, totally out of my comfort zone.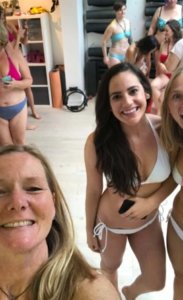 WHY did we do this?? It is to show everyone that none of us are perfect, we don't all feel great about our bodies – just like everyone else.  It is absolutely OK to feel uncomfortable about your body, but you just need to know you are not the only one.  I spent my youth thinking I had chunky legs and would hide them all the time. I still have those same legs now but I look at the marathons, 10k's, dog walks, climbs etc that they have got me through & maybe it's my age but I am now a lot more accepting for what they have done for me, rather than be critical.
I love the photo where we all wrote something on our hands that had haunted us in our youth or what we felt about ourselves – all these health professionals all had the same sort of hang ups from our youth as anyone else!
So to 2019 …..
I hope you all have a healthy 2019 and it brings positiveness, more acceptance and a year to really think about YOURSELF!! A big part of my Holistic Core Restore® courses are about 'ME TIME' or some 'SELF CARE' – so instead of making lots of NY resolutions that may only last a week, just think about doing at least 1 thing each month for YOU!!!